Kiki and Koen Pluimstaart are two happy squirrels and live in a beautiful park full of trees. They are happy there and enjoy the lovely children and animal friends around them. But when the tree where the squirrels live is suddenly cut down and the whole park has to disappear for new houses, a kind gentleman asks if Kiki and Koen would like to live with him in the park. This they want very much!
Now Kiki and Koen live in a cool tree house at the beautiful holiday park. They love it, there is so much to do! They have already made many friends with whom they can play every day. Will you also become friends with Kiki and Koen? Then you can dance together at the mini disco, do crafts with Kiki in the Pigtails Club or go on nature hunts with Koen. And do you come across the occasional acorn? Then it must belong to Kiki and Koen. They like to hide acorns all over the park, so they can bake delicious pies all year round.
Want to know more about how Kiki & Koen ended up at the Boshoek? Read their story here
During the official school holidays, Kiki and Koen also regularly take part in organised activities! Wondering what activities there are? Check them out in the entertainment programme! Our crazy squirrel Koen and cheerful friend Kiki experience so many fun things, it would be a shame if you had to miss something. That is why they share their adventures on the Boshoek socials. 
KIKI 🐿️
Kiki is Koen's cool and clever little sister.  
She loves pretty colours, flowers and dancing butterflies.  She likes to do crafts in the Pluimstaartenclub and loves games. Do you know what she likes best of all? Playing tag with her little brother among the trees, Kiki is lightning fast. She also dreams of becoming a good dancer. 
KOEN 🐿️
Koen is Kiki's cheerful and brave little brother. 
He loves to find food with which he bakes the most delicious acorn cakes. Koen loves going on adventures and looking for new animal friends to play puzzles with. What he does not like is rubbish in the forest. He loves climbing the tallest trees to play hide-and-seek. You can wake Koen up at night for a plate of delicious pineapple puree. 
KIKI AND KOEN
Sturdy twins Kiki and Koen have been living in our holiday park since this year. They love looking for food and hiding. What a pity they often forget where they have hidden the food. That is why there are now even little trees growing from their forgotten acorns. Will you come and visit Kiki and Koen and help them find the missing acorns? Of course, you can also come to tinker and play at Dé PluimstaartenClub. Or dance along during the shows. We hope to see you soon!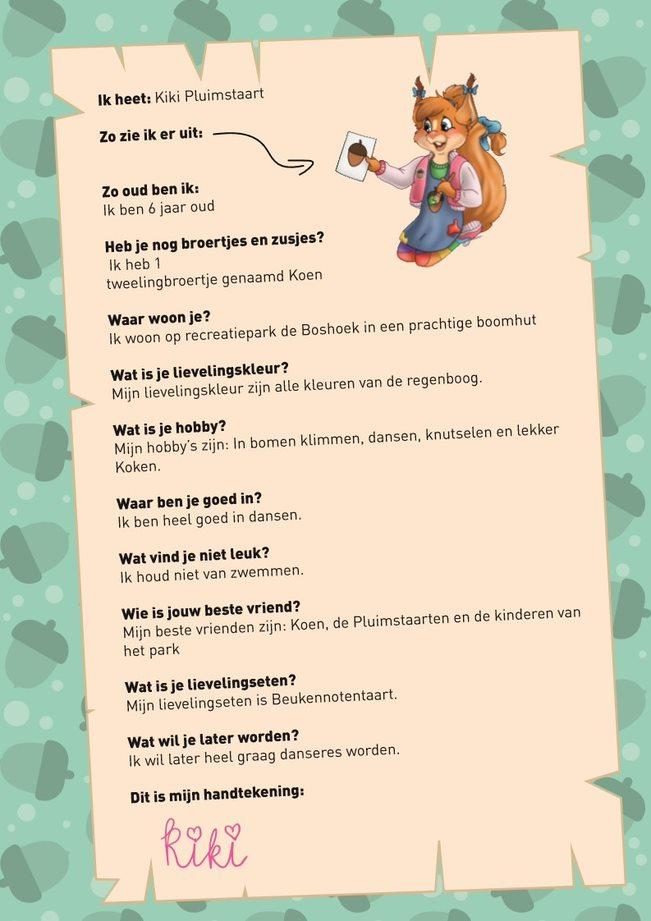 SEND MAIL TO KIKI & KOEN! 📬
Did you already know that you can send mail to Kiki & Koen? Near Western Plaza, there is a big mailbox. Every evening, in school holidays, Kiki & Koen check what mail they have received. Outside school holidays, they also regularly check what mail they have received.
Have you made a nice drawing or letter for Kiki or Koen at home? Then you can send it to:
Kiki and Koen
Harremaatweg 34
3781 NJ Voorthuizen
You will always get a personal message back from Kiki and Koen! How nice is that!